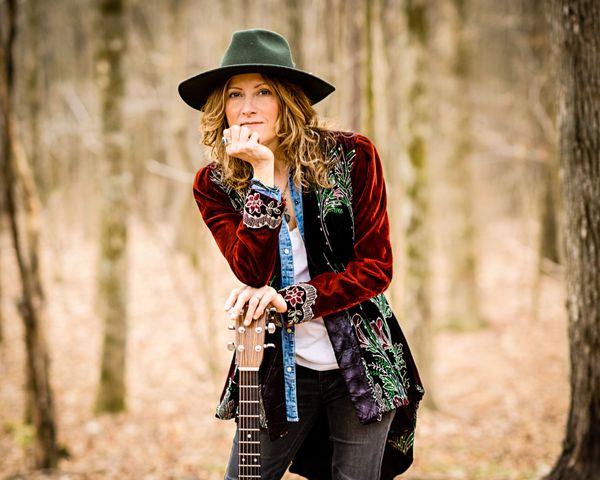 " Malone has one of the most remarkable voices I've ever heard. She's uniquely able to blow the roof off the place with a loud raucous number, and then to turn right around and whisper a soft song that will break your damn heart." 
ABOUT Michelle Malone and her new 1977...
A mainstay of American roots music for more than 30 years, Michelle Malone has built an award-winning career as a songwriter, road warrior, and modern-day guitar hero. Her music is ingrained in the sounds of the south, mixing the rebellious stomp of roadhouse rock & roll with the raw grit of blues, the holy-rolling rasp of gospel, the slow-motion swagger of country-soul, and the organic warmth of folk music. Proudly based in Atlanta, Georgia, she's always worn her influences on her sleeve — but her music is unmistakably her own.
With 1977, Michelle returns to her roots as a singer/songwriter. This is an organic, stripped-down album that finds her looking to the past to help make sense of the present. Informed by artists like Neil Young, Linda Ronstadt, Jackson Browne, and Fleetwood Mac — all of whom were mainstays on the FM radio during the late 1970s, back when Michelle first picked up her guitar and began to play along — 1977 tones down the amplified bombast of her previous albums, focusing instead on a reflective mix of acoustic guitar, timeless melodies, and unforced arrangements. It's a reminder that Michelle Malone's songs always pack a punch, regardless of the decibel level.
"I'm a big fan of 1970s music, especially singer/songwriters from the Laurel Canyon scene," she explains. "1977 is the year I started playing guitar — the year I started becoming ME — so music from that era has always felt special. It takes me back to a place that was safe, sound, and comforting. That's the sound I was drawn to when I was beginning to write this record."
Michelle had already spent decades on the road by the time she began writing 1977, regularly playing more than 200 shows a year. Most of those shows took place in clubs and noisy bars — places where her skills as a show-stopping vocalist and hotshot slide guitarist enabled her not only to express herself, but to rise above the clamor of the room, too. Along the way, she turned a number of heroes into genuine fans, from music industry legend Clive Davis (who personally signed Michelle to her major-label record deal with Arista, years before she launched her own label and kickstarted her journey as a do-it-yourself independent) to collaborators like Gregg Allman, Shawn Mullins, and the Indigo Girls. The New York Times rightfully hailed her as "the kind of singer and songwriter who can jolt things into overdrive," while Rolling Stone praised her "soulful ballads and rowdy, riffy blasters."
That momentum took an unexpected hit in 2020, as the concert industry — and much of the outside world — was brought to a halt. Stuck inside for the majority of the year, Michelle began writing introspective music that explored not only the modern moment, but also the path that brought her there. She wrote about her family, her career, and the evolving challenges of her own world. Many of the songs seemed to evoke the sound and spirit of the 1970s — from the folk-rocker "Georgia Made" (a tribute to her grandfather, laced with harmonica and brushed percussion) to the gorgeous "Not Who I Used To Be" (an atmospheric Americana song about personal growth). Produced by Malone, engineered by Jeff Bakos, and featuring appearances from a highlights reel of Atlanta-area artists — including the Indigo Girls' Amy Ray (whose harmonies can be heard in "The River Song"), co-writer Elliot Bronson (who helped write "Not Who I Used to Be" and the heartland pop/rock song "Even the Queen"), guitarist Doug Kees, drummer Gerry Hansen, and others — 1977 mixes nuance with nostalgia, autobiography with character studies, introspection with universal messages.
"It's raw and honest," says Malone. "The stories are peppered with joy and positive twists, as well as reminders that no matter how hard things get, we survive and we reflect and we move forward."
A nostalgic record for today's world, 1977 doubles as a reminder from a longtime highway queen to slow down and listen. The record is due 4/22/22.
In A nutshell...
Compared to most musical artists in the Americana genre, Michelle Malone seems like a pair of distressed blue jeans amidst a sea of pantsuits. Unlike the surplus of self-professed rootsy rebels, one listen to this woman from Georgia and you know you're hearing the real thing. A singer, songwriter, guitarist, producer whose music is informed by roots rock, blues, folk and Georgia soul, Michelle Malone's performances can go from contemplative coffeehouse quiet to rowdy and "Deluxe reverb on 10" at the turn of a dime. Her passionate, uncompromising style has won her loyal following world wide. She's a wild-haired Rock Goddess, political singer/songwriter, passionate raw performer with early roots in the church choir  – no single characterization tells the whole story. Over the course of Malone's career, she's performed with artists from Gregg Allman to Ellen Degeneres, John Mayer to the Atlanta Symphony, Indigo Girls to Luther Dickinson, released more than a dozen records and went indie when it still took guts. Equal parts badass guitar slinger and sweet songstress, Michelle Malone artfully balances her penchant for ripping it through the roof with masterful lyrical introspection and vocals that range from sublime to raucous.
FUN FACTS
Malone appeared on the Grateful Dead tribute album, Deadicated  (Arista Records) in the Harshed Mellows with Dan Baird (Georgia Satellites) and The Heartbreakers (Tom Petty).

She was featured in a Georgia Tourism TV commercial with Elton John.

The Collectible card game Magic: The Gathering was named in part for her song The Gathering.
 
Malone sang backing vocals on southern anthems Straight To Hell and Honeysuckle Blue by Drivin' N Cryin' (Island Records).
Malone started a scholarship for girls, and has awarded 3 scholarships thus far - The first recipient is now in graduate school, the second recently graduated, and the 3rd will graduate next year.
She has appeared on the grammy ballot twice - once for Best Americana Album (Debris) and once for Best Contemporary Blues Album (Sugarfoot).
________________________________
WANT MORE?
Michelle Malone is an award-winning American singer, songwriter, guitarist, and producer in the rock, folk, blues and pop idioms. She is also the founder of SBS Records.
Malone was born and raised in Atlanta, GA by a musician mother with whom she toured in the summers. She grew up listening to her mother and grandmother sing in the church choir every Sunday when they werent on the road. She dropped out of high school at 16 and ran away from home.  After a few brushes with the law, she went back to high school and became the valedictorian. She attended Agnes Scott College with dreams of becoming a doctor, but was offered a record deal with Clive Davis at Arista Records, which looked alot more interesting than more school.
When it came time to craft her own sound, she took those religious and secular roots, blended in enough folk, rock and blues to satisfy, and came up with a rootsy high-spirited sound that brings acoustic and electric slide and passionate vocals together harkening back to the lost recordings of Bonnie Raitt, Susan Tedeschi and Lucinda Williams fronting The Rolling Stones.
After several major label releases, Malone is now an independent artist with 15 studio records to date and an impressive resume which includes hi profile performances with everyone from Gregg Allman to  Ellen Degeneres, ZZ Top to the Atlanta Symphony,  various awards including best albums, 4x best singer, 3x best acoustic guitarist, and 2 Grammy ballot nominations. Her songs have appeared in such films as Bam Bam and Celeste, All Over Me, Shotgun Jesus and television programs True Blood, Dawson's Creek, Felicity, Brooklyn South. They have been recorded by Indigo Girls (for which she received both gold and platinum records), Antigone Rising, Hannah Thomas, and Vistoso Bosses.
Malone has also made time for philanthropic endeavors such as running the Paris marathon for Team In Training/The Leukemia Society, and cycling with Team Earth Challenge from Atlanta to Yucca Mountain, NV in protest of the nuclear waste dumping. In 2012 she started a college scholarship fund for girls in need. She currently contributes to various women's and children's non-profit organizations, and donates time to local Georgia music organizations and schools.
Malone has performed for TedX Peachtree, been honored with a Signature guitar slide modeled and named after her by Rocky Mountain Slides, was the keynote speaker at a SoCal high school graduation, toured as the rhythm guitarist and mandolin player for Kristian Bush (Sugarland). Most recently she performed with Gregg Allman at Atlanta Symphony Hall for a salute to Georgia Music and Drivin' N' Cryin' for their induction into the Georgia Music Hall of Fame.
Michelle's new record, Slings and Arrows is upbeat, defiant, and jubilant, flush with the raw energy and emotion that's always been a part of her signature sound all while nudging her deeper into some personal new territory. These songs speak to desire and disappointment, optimism and awareness, all with a driving and fiery conviction.
"The past year seemed to alternate between darkness and light," Malone reflects. "It's kind of been the arc of my life in general, but even more so over the past year. In a very real sense, this album is a microcosm of issues that I've encountered, and in writing this record, it became a kind of therapy. It helped change my perspective, and I suspect that there are messages here that can offer affirmation to others as well."
 
 Malone describes Slings And Arrows as a "Georgia record," due to the fact that the musicians, studios, and even those responsible for the visual art are all Georgians. "I take a lot of pride in Georgia and the importance that Georgia music has played not only in my music but also in American music in general," she says. "Georgians such as Little Richard, James Brown, Ray Charles all laid the ground work. Without them, we would never have had Elvis, the Beatles, the Stones - there would be no rock and roll. I made a conscious effort to capture some of these Georgia roots on this record."
As the New York Times once pointed out, Malone is "The kind of singer and songwriter who can jolt things into overdrive." That's best evidenced by the fact that the record was recorded live in the studio. It took all of five days to get the songs on tape. "I aim for authenticity," Malone insists. "I don't know how to do it any other way. I'm at my best when I'm just being myself."
Produced by Malone herself, recorded by Jeff Bakos and mixed and mastered by Gerry Hansen, Slings and Arrows finds her handling vocals, brandishing electric and acoustic guitars (including her signature slide guitar), harp, and mandolin, with additional support from guitarist Doug Kees (Peter Searcy, Johnny Hyde Quartet), bassist Robby Handley (Lera Lynn, Larkin Poe), drummer Chris Burroughs (Lizz Wright, Chris Duarte) percussionist Trish Land, and special guests Shawn Mullins who sings a duet with Malone, Peter Stroud (Sheryl Crow, Stevie Nicks) who plays additional guitar on a song and Joey Huffman (Georgia Satellites, Hank Williams jr) who played keys on a song.
Malone slyly adds half jokingly and half seriously, "These Slings and Arrows have the power to defeat your blues, move your shoes and put you back together, too!"  Who doesn't want that?
Slings and Arrows release date was March 2nd, 2018.
__________________________________